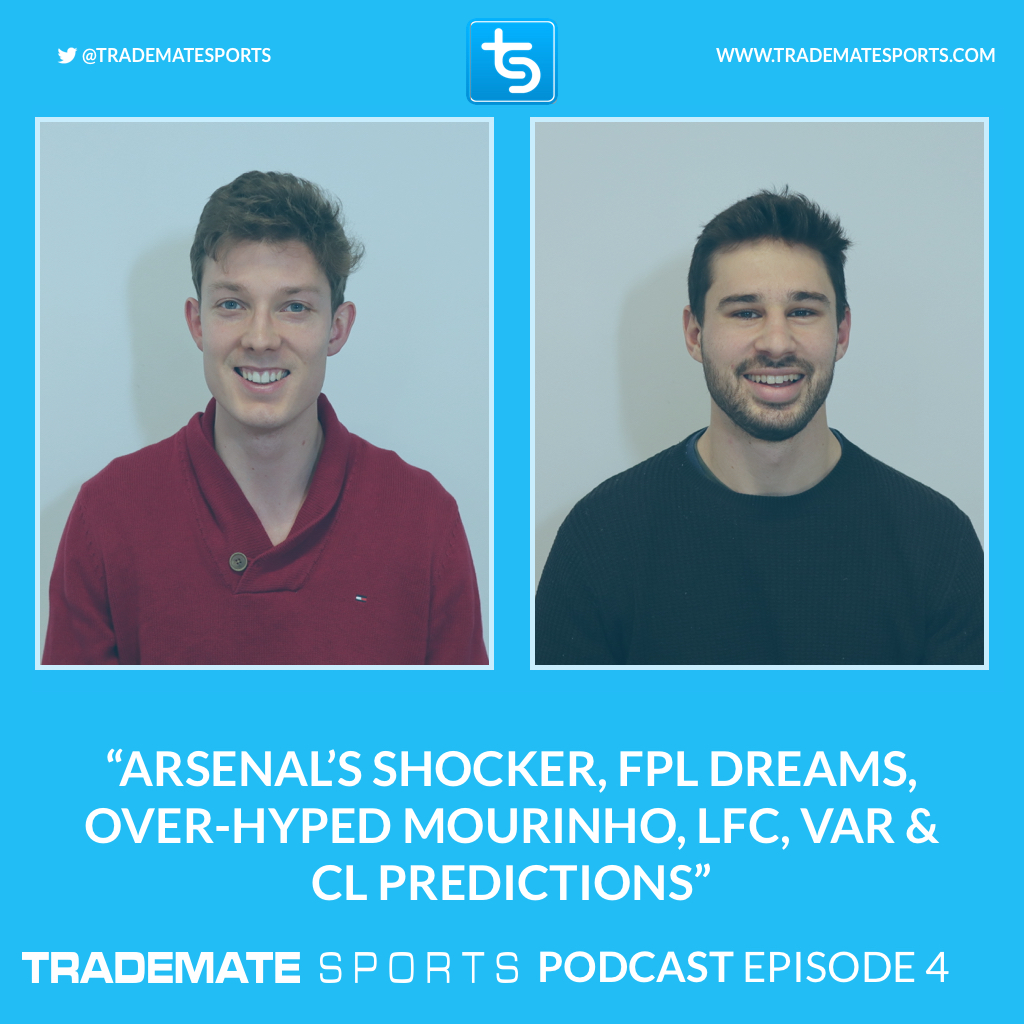 In this week's episode we discuss Arsenal's terrible performance against Southampton as Alex highlights some questionable refereeing decisions (2:19). Marius and Alex debate whether Crystal Palace's goal against Liverpool should've been disallowed by VAR (10:00). They also make predictions as to how the Champions League group stage will play out and who will advance (16:09). Alex gets fired up over people praising Jose Mourinho after one game (23:52)! And as always the boys discuss their Nostradamus Prophecies (26:05), value bets of the week (28:15) and chat a bit of Fantasy Premier League (29:48).
You can also watch this podcast as a video on Youtube. 
WHAT IS TRADEMATE SPORTS?
Trademate is the ultimate tool for new and professional sports traders. We calculate the true odds of a sports event and signal when the bookies make mistakes. Enabling you to exploit them.
WHO WE ARE AND WHY WE DO IT?
We love sports, challenges and winning. Finding value is what we are all about whether it is in sports markets or getting a discount at the supermarket. We get that it doesn't always make sense why we would sell such a thing if it works as good as we are claiming. The problem with sports trading and exploiting value on the European bookmakers is that they will eventually limit anyone who wins over time. This has happened to all of us, so one way to look at it is that through providing this service to you we are able to get back the at the bookies and at the same time indirectly getting a cut of the profits through our subscription fee. Or in other words, it's a win-win. 
Subscribe to our Youtube channel➠ https://goo.gl/U2nefJ 
SOCIAL LINKS:
Instagram ➠ https://www.instagram.com/tradematesp...
Facebook ➠ https://www.facebook.com/TrademateSports
Website ➠ http://tradematesports.com/
Twitter ➠ https://twitter.com/TrademateSports
Do not hesitate to contact us anytime!!!